musa basjoo bananas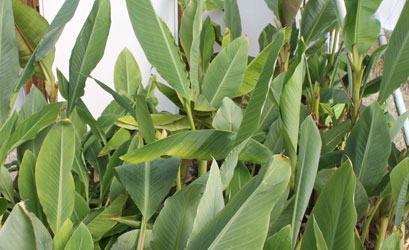 On sale now
This Himalayan Musa Basjoo banana is very cold resistant; its underground rhizome will survive temperatures as low as 22 degrees for short periods. If you plant outdoors in our Zone 9 climate, be prepared to wrap the Basjoo's trunk (or mound soil around it) and to cover it with a blanket if the  temperatures are low.
Musa Basjoo will bounce back from very poor treatment generally. But, like all bananas, the Basjoo prefers warmth, and lots of it, and very compost rich soil - followed by regular feedings. Be careful; do not let the plants dry out, but do not overwater.
Short version - pay attention.
High humidity keeps the plants fresh-looking; avoid a windy placement.
Red mites can be a problem - keep an eye out and spray.
Do not expect any fruit and you will not be disappointed.
In the right placement, in a tight pot on a south side surrounded by gravel, for example, this banana is a rooting fool.
Milewide Nursery has $10.00 basjoo banana starts for sale.