contact/about us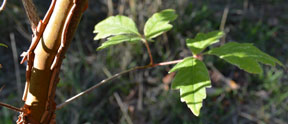 hello,
    Milewide Nursery is located in Humboldt County, northern California , where our land is blessed with a zone 9 climate. The ocean moderates a little and the inland heat moderates a little. And this keeps us not too hot and not too cold.
        We grow potted plants that appeal to us - just now we are focusing on japanese and paperbark maples. And we have a 400 tree olive orchard of Leccino, Frantoio, Pendolino, Maurino, Taggiasca, and Arbequina cultivars. Our operation isn't so big that a few helpers and us can't take care of it - but we do hustle.     The land is on the edge of and between our local oak savanna and our dominant fir forest - it is also very rugged, but that is very typical in our area. The winters, until recently, were wet and the summers hot and dry - the typical Mediterranean  climate.
        What do you want?
        Pretty broad question, I know. But when it comes to plants you purchase to please yourself, the basics really do seem simple. Beauty, style, ease-of- care, and some consciousness are all concepts that come to mind. All of us can have beauty (and style) around us if we listen up and hear what nature has to offer.
    I fell in love with gardening and the country long ago. Its not hard to do. This love led me to Milewide Nursery - maybe its going to rock, maybe not, but I'm stuck now. My wife, bless her heart, has come along for the ride. And she, like the other people who  have come up to help at Milewide, also thinks that nature does have alot to offer.
        Our products are grown naturally, using sustainable methods. I'll be the first to say that this endeavor is a work in progress. We don't want to use poisons and we want our ranch to have many years of productive life - you could really say that we are just     selfish. We suspect that you may be selfish in the same way.
Keep growing!
steve
-------------------------------------------------------------
You are welcome to come pay us a visit if you are coming through our rural area - just call ahead. You can get us at
staff.milewide@gmail.com
707.498.9433
Box 1666, Redway, CA 95560
We have a blog over at wordpress - www.milewidenursery.wordpress.com